These words from Rob Underhill: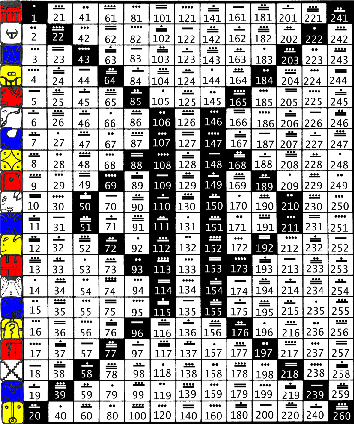 What is occurring now on this Earth has not happened before - we are living in a unique age. Both our Earth and Solar system are moving through huge frequency changes, 'time' as we have known it is collapsing together with the Earth's climate. We can no longer ignore the approaching galactic alignment of 2012.
The ancient Maya travelled the time lines of both future and past, leaving behind vital clues to unlock the great mystery of the ages. With their infinite knowledge of cosmic mathematics and hieroglyphic symbols they carefully recorded a Long Count of 5,125-years due to end in 2012C.E., along with an even larger evolutionary cycle of 26,000-years. This long Count is still in use today by the Guatemala highland Maya and is linked to their traditional True Count Tzolkin or Cholq'ij. These highland Maya sometimes referred to as the Quiche (although there are several indigenous groups) have been using their sacred count of days in unbroken sequence since ancient times. New Year for these Maya starts twenty days after the centre of the Tzolkin (see Illustration) at 8 B'atz or 8 Monkey. Whereas the José Arguelles count used here, always begins from the top left-hand corner at 1 Imix (1 Dragon). It's interesting to note that on the Long Count, the Mayan sun symbol of Imix always falls at the numeral position of one. Is this an echo of correlation from the distant past? Mayan ancient knowledge is a rich tapestry woven into their pyramids, hieroglyphs and language.
The data here operates on the synchronistic order of the galaxy, a 52 year cycle linked to our Earths solar rhythms. Its source flows as much from the future as from the past and both the traditional true count and José Arguelles Dreamspell count are each serving humanity as we prepare for an enormous planetary shift to a new level. My quest here is to help everyone re-establish a cosmic connection - a place where synchronicity is the norm and unity the result.
Glyph reference table

Imix (ee'meesh)
Dragon: initiates, being, birth
Element: water
Planet: Neptune

Ik (eek)
Wind: communicates, breath, spirit
Element: air
Planet: Uranus

Akbal (ak'bal)
Night: dreams, intuition, abundance
Element: earth
Planet: Saturn

Kan (k'an)
Seed: targets, awareness, flowering
Element: fire
Planet: Jupiter

Chicchan (cheek'chan)
Serpent: survives, lifeforce, instinct
Element: water
Planet: asteroid belt

Cimi (kee mee)
World bridger: equalises, opportunity, death
Element: air
Planet: Mars

Manik (man eek)
Hand: knows, healing, accompishment
Element: earth
Planet: Earth

Lamat (la mat)
Star: beautifies, art, elegance
Element: fire
Planet: Venus

Muluc (moo look)
Moon: purifies, flow, universal water
Element: water
Planet: Mercury

Oc (oak)
Dog: loves, loyalty, heart
Element: air
Planet: Mercury

Chuen (choo en)
Monkey: plays, illusion, magic
Element: earth
Planet: Venus

Eb (eb)
Human: influences, wisdom, free will
Element: fire
Planet: Earth

Ben (ben)
Pillars of Light: explores, wakefulness, prophecy
Element: water
Planet: Mars
Ix (eesh)
Wizard: enchants, receptivity, timelessness
Element: air
Planet: asteroid belt

Men(men)
Eagle: creates, mind, vision
Element: earth
Planet: Jupiter

Cib (keeb)
Warrior: questions, intelligence, fearlessness
Element: fire
Planet: Saturn

Caban (ca ban)
Earth: evolves, synchronicity, navigation
Element: water
Planet: Uranus

Etznab (ets nab)
Mirror: reflects, order, endlessness
Element: air
Planet: Neptune

Cauac (ka wak )
Storm: catalyses, energy, self-generation
Element: earth
Planet: Pluto

Ahau (ahow)
Solar Mind: enlightens, life, universal fire
Element: fire
Planet: Pluto
Knowing your cosmic ABC
Although the Tzolkin (illustrated) has been referred to as a calendar it is more accurate to describe it as a hologram of the operating principles of both our galaxy and the human body. Within its cycle of 260 units known as Kin, (a Mayan word meaning sun or one unit) is a fractal image of our 26,000-year evolutionary journey. This loom of squares contains 52 energy portals (dark shaded squares) representing intensified convergence points that also relate to 52 points on the human body, whilst concealed within its central framework are the 64 units of our DNA. This 260-day grid holds a pattern of 20 spiralling weeks of 13 days and plots our destiny pattern through the time waves of creation and although appearing to be linear the Tzolkin holds several interrelated time wave spirals. Thirteen is the number that governs movement; we have thirteen main limb joints in our bodies and the twenty expresses the measure, with our twenty fingers and toes. Deep within our cellular memory we hold the knowledge of these harmonic codes. We are the embodiment of the cosmos and stand on the threshold of enormous change. The moment has surely arrived to bring this knowledge through to our conscious awake state. We are literally running out of time!
The Tzolkin grid shows a pattern of thirteen vertical columns representing movement and twenty horizontal columns representing measure. On the left hand side of the first column are 20 Mayan sun glyphs each one representing a unique pulse of the sun. We were all born under the energy of one of these sun symbols and one of the 13 tones of movement, your birthday lies in one of those squares. As mentioned above, the 52 dark squares are portal days giving access to multiple levels of energy and the dots and bars in the squares refer to the very simple Mayan counting system, a dot = 1 and a bar = 5. The squares are numbered 1 to 260 (Kin Numbers) to help locate any day reference from the 12 month calendar. Beginning at the top left hand corner the Tzolkin wave flows downwards repeating a 1 to 13 cycle, always flowing from the top downwards until finally reaching square 260, which is 13 Ahau and then the cycle repeats again. All the sun glyphs have been given their Yucatec Mayan names enhancing the resonance of their energy. Each glyph represents one of twenty energetic pulses of the sun, projected through the ancient knowledge of symbols. See the sun glyph table for meanings.
Throughout our lives we have been conditioned to believe in a linear concept of time, rather than the spiral harmony of our galaxy. For the Maya this energy was symbolised by the form of a sacred G; frequently found in their artwork and revered as the source of all life. It is important to become aware now of embracing a 13-day wave spiral in your daily life, the essence of the universe. The spiral of our Milky Way is found within every cell of our bodies - we are a fractal of the universe.
Catch a wave!
Learning to live in the flow of the universe is like surfing the oceans, first you need to catch a wave. Sourcing the start of a wave is easy - just remember that the Tzolkin's wave patterns start at tone one (one dot over the symbol). The energy of the first day symbol governs that entire wave and each day glyph reflects its own unique geometry into each specific day - producing the 20 measures of our Sun. At tone one you set your goal for that wave and between two and five you prepare and gather together resources you are going to need to manifest your goal. Tones six to eleven are the action and completion stages - that's when you start surfing with cosmic synchronicity. Go with the flow - the universe is with you! Tone Twelve - the energy has softened and this is most conducive for meetings - reviewing and future planning. Thirteen brings a more restful flow as you recharge before for the next spiral wave. Time to get the surfboard in shape before the next cosmic wave begins. The power of thirteen holds within it an octave of music - the full spectrum of light. Have you ever wondered why beautiful melodic music makes you feel so good? You are receiving a rainbow through sound! These spiralling 20 waves of 13 octaves hold vital keys to understanding the very unity of all life - the harmony of the spheres. When we plan our daily lives and goals riding the wave of thirteen, we embrace the natural rhythm of our universe. This opens up our consciousness to new levels of awareness that many people are already experiencing.
The Tzolkin's count of 260 days cycles faster alongside the rhythm of our 365-day solar year creating a cycle within a cycle. This creates a synchronistic time wave of 52- years, the cycle of the Pleiadian star system unifying perfectly with the 365-day Mayan solar calendar called the Haab. Knowledge of this 52 years cycle is built into the architecture of the Pyramid of Kukulcan at Chichen Itza in the Yucatan. Constructed during the 9th century AD, with the combined efforts of both Toltecs and Maya, the pyramid of Kukulcan (the place where the serpent dwells) is a carefully designed calendar pyramid orientated to the galactic alignment end date of the 2012. An intriguing facet here is the Yucatan Mayan word of Tzab used to describe both the Pleiades and the rattles in the tail of the rattlesnake. In ancient times the symbol of a serpent indicated rebirth and this imagery is powerfully displayed at Chichen Itza during the spring equinox when a shadowy reflection of a serpent is cast by the pyramid architecture in the afternoon sun.
For millennia mankind has lived in synergy with the natural rhythms of Earth, Sun and Moon, it formed the basis our earliest forms of agriculture as we evolved around seasonal cycles. Our moon demonstrates the rhythm of 13 between her new moon and full moon phase (an actual period of 14.8 days) but there are only 13 days during which a different visible phase can be observed. Many of our species of birds, fish and animals migrate using their sensory perceptions of both Earth and Cosmic rhythms, yet our modern High Tec world dulls our human perception of these subtle energies. The real Internet is located within - we already have the programme and the soft ware. All we need to do is clearout our memory virus and log on to the 13:20 frequency and surf the universe!
A short explanation of a very Long Count
On winter solstice 2012, the Mayan Long Count that began in 3114 BC reaches the end of its chronological count of approx 5,125-years. The Long count end date will read 13-0-0-0-0and you could think of it as a Mayan digital clock that's completed its read out, but what do the numbers really mean?
| | | | | |
| --- | --- | --- | --- | --- |
| 13 | 0 | 0 | 0 | 0 |
| BAKTUN | KATUN | TUN | UINAL | KIN |
| 144,000 days | 7,200 days | 360 days | 20 days | 1 day |
The count progresses from right to left with each dial sequence reading 0 to 19 (zero has a first place value) except for the Uinals (name means month of 20 days) where the count is only 0 to17. Mayan mathematics is a vigesimal system, advancing by twenty units, enabling vast numbers to be counted. For example twenty Tuns become a Katun and twenty Katuns become a Baktun. To calculate any day on the Long Count go to the calculator on this website.
Our sun is the ultimate information source for all life on Earth - a fact the Maya have always known and in stark contrast to our modern worldview of perceiving our sun merely as providing light and warmth. Multiple realities have always existed and in any given moment across this planet, human beings are experiencing a spectrum of different realities all occurring at the same moment. We have night and day - summer and winter - spring and autumn and all the numerous different time zones. Meanwhile this beautiful Earth continues on her journey at 63,000 mph - but who is the driver? A very real sense of a quickening now pervades every area of our lives as 2012 draws near. So I invite you to explore living in a new time and discover the sheer magic of our universe.
Copyright 2005 Rob Underhill
Acknowledgments:
Gratitude to you both for giving your time and energy freely to make this information available to everyone.
José and Lloydine Arguelles Co-creators of the Dreamspell and revealers of the Law of Time. Acknowledgment and gratitude for use of their synchronised count and for inspiring me along this path of discovery. www.lawoftime.org
Aluna Joy Yaxk'in Author - Mystic - Spiritual Guide. A special thank you for your enduring encouragement and gracious permission to use material from your book The Mayan Day keeper. www.alunajoy.com
Mayan Elder Hunbatz Men for the great inspiration of all your teachings.
Gratitude and honour to all the Maya people both ancient ancestors and present day, from all the regions of Central America. You hold the sacred wisdom for the world; may all facets of our different perspectives come together in harmony as we journey into a new dimensional time.
"In Lak'ech" - we are all one.
-- Rob Underhill